T-BONES PREMIUM SMOKIES 6pk
June 16, 2020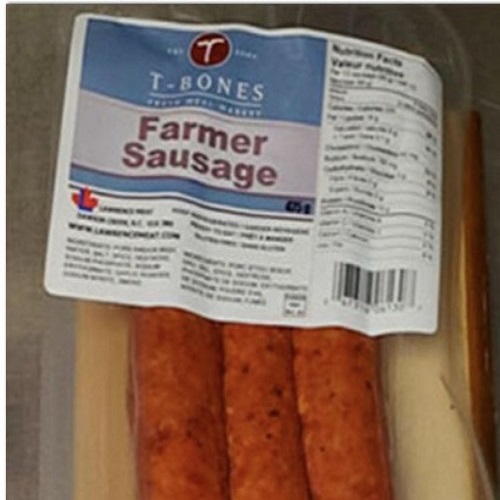 T-BONES SMOKED FARMER SAUSAGE 475g
September 16, 2020
MAPLE BACON & BLUEBERRY SAUSAGE
$12.00 per lb
Hand crafted in-store. Blueberries mixed with our maple bacon infused pork and beef sausage in a natural hog casing. Approximately 4 per pound. Available frozen or thawed.
Description
BUY 2LBS GET A 3RD LB FREE!        3        3.75
Buy 2lbs get 1lb FREE from Nov 16th – 22nd. Based on regular price of $11.25/lb, equals $7.50/lb. Must enter minimum of 3lbs to receive discounted price.
You may also like…
Price shown reflects average size of 1/2lb – 3/4lb each based on price of $11.25/lb. Actual price will vary depending on weight. Our smoked ham steaks are great for breakfast, lunch or dinner.  If you would like a specific size, please indicate in the special instructions.

$

7.00

ea

Price shown reflects average size of 1/2lb – 3/4lb each based on price of $11.25/lb. Actual price will vary depending on weight. Our smoked ham steaks are great for breakfast, lunch or dinner.  If you would like a specific size, please indicate in the special instructions.

Select options

Our premium smokies are gluten free and a local BC product. Choose from Bavarian, Jalapeno Cheddar, Mozza, Chili & Cheese or Banana Pepper & Cheddar. Sold in packs of 6.

$

11.25

ea

Our premium smokies are gluten free and a local BC product. Choose from Bavarian, Jalapeno Cheddar, Mozza, Chili & Cheese or Banana Pepper & Cheddar. Sold in packs of 6.

Select options

Our beef sausage is handcrafted in-house and infused with roasted garlic, onions and red peppers. Stuffed in 100% natural hog casings. Approximately 4 per pound. Available frozen or thawed.

$

12.00

per lb

Our beef sausage is handcrafted in-house and infused with roasted garlic, onions and red peppers. Stuffed in 100% natural hog casings. Approximately 4 per pound. Available frozen or thawed.

Select options