T-Bones Online Shopping is Easy!

Add to your shopping cart from our extensive catalog

Pick up your order from your local T-Bones!


Add to your shopping cart from our extensive catalog


Pick up your order from your local T-Bones!
Frequently Asked Questions
1
IS THERE A CUT OFF TIME FOR ORDERING?
The COVID-19 situation has caused a higher demand for larger online orders therefore we have suspended same day pick up. We have also had to make changes to operate within the new health guidelines and to maintain sufficient stock levels in our stores. Our current online order system will prompt you upon checkout to choose the next available pick up date. Please note that we have had to limit the amount of pick ups per day to allow sufficient time to fill orders. We appreciate your patience and understanding. Please check individual store hours here: https://mytbones.com/locations/ . .All stores are closed Thanksgiving Day, Christmas Day, Boxing Day and New Year's Day.
2
WILL YOU BE OFFERING DELIVERY OR SHIPPING FOR ONLINE ORDERS?
We are exploring options for providing order deliveries in the Okanagan communities that have a T-Bones location. As of April 2020, we are starting home deliveries in the Kelowna area (Kelowna, Rutland, Lake Country and Lower Mission areas). For more information about deliveries, please go to our Delivery FAQ page https://mytbones.com/delivery-faq/ .
3
CAN I PAY FOR MY ORDER ONLINE?
We are currently not accepting payment for orders online. Future development of our online store may include online payment, however, at this time it is order online and pay in-store. Please go directly to the till when you arrive and provide your name to the server.
4
WILL I BE NOTIFIED WHEN MY ORDER IS READY FOR PICK UP?
Yes, you will receive an email when your order status has been changed to Completed.
5
IS THERE A SPECIAL ONLINE ORDER PICK UP COUNTER DURING THE COVID-19 SITUATION?
We now offer curbside pickup for online orders and freezer packs. You can call the store upon arrival and one of our team members will meet you at your vehicle with your order and a wireless payment device for payment via debit, Mastercard, Visa or Tbones Gift Card.
6
WHAT IF I FORGOT TO ADD SOMETHING TO MY ORDER OR NEED MORE ITEMS THAT AREN'T AVAILABLE ONLINE?
You can add more items to your order when you arrive at the store. Your online order will be saved in our system and we can easily add more items to the sale before you pay.
7
WHY WAS MY ORDER TOTAL AT THE STORE DIFFERENT FROM THE ONLINE TOTAL?
Your online order total will be an estimate as the actual prices of some items may vary depending on weight. Items priced by weight can vary in size and your cart total will be an estimate. Also, some products may no longer be available when your order is being prepared. T-Bones reserves the right to limit quantities in order to maintain sufficient stock levels for all of our customers.
8
CAN I PLACE AN ONLINE ORDER FOR PICK UP ON A FUTURE DATE?
Yes, you will be prompted to select a pick up date before you submit your order.
9
WHY CAN'T I FIND A SPECIFIC ITEM ONLINE THAT IS AVAILABLE IN-STORE?
We are continuing to add items and appreciate your patience as we continue to build our online store. If there is a specific item that you would like to purchase but can't find it online, please let us know by contacting the location where you wish to pick up your order or including your request in one of the special instructions sections. Individual store contact details can be found at https://mytbones.com/locations/.
10
CAN I BUY A GIFT CARD ONLINE?
Gift cards will be available to purchase online in the future. You can contact a T-Bones location to inquire about our current procedure to purchase a Gift Card over the phone.
11
HAD A FANTASTIC EXPERIENCE IN STORE OR ONLINE?
Please tell your friends, family and co-workers about us! We love to hear about your experiences too! Google reviews are always appreciated too!
12
NOT SATISFIED WITH YOUR IN-STORE OR ONLINE SHOPPING EXPERIENCE?
Please contact us directly and give our team the opportunity to make you happy!
T-Bones Fresh Meal Market
---

---
At T-Bones we love coming to work to help people solve that one question we all ask ourselves everyday - what's for dinner? We are a locally owned and operated company providing fresh, quality foods servicing our many loyal customers in the Okanagan Valley. We have over 100 mouth watering, made on premise products unique only to T-Bones combined with an amazing selection of dinner items for those with even the most discerning menu and taste. We guarantee you will leave knowing your dinner plans are set. We specialize in providing top-quality, fresh and delicious meats, ready to serve meals, rubs and sauces. Among our range of meats, poultry, and seafood, you will also find house made sausages, unique appetizers, desserts and many custom inspired items that are amazing. We look forward to serving you soon!
We always have specials! Whether it's weekly or monthly, you can expect to find the perfect meal idea at T-Bones. Make sure you check out our online flyer to see our current list of items on special.
---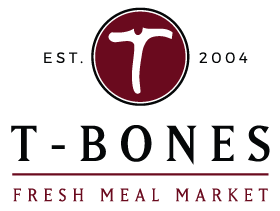 ---
THE T-BONES WAY
---
Over 80 trained and qualified staff with more than 200 years of combined experience in the industry are ready to serve you. With a little notice we can source or create any product you desire and we're always happy to help you select the perfect cuts for that special occasion so be sure to ask us for our dinner recommendation.
Interested in a Freezer Pack?
---


Ordering is Made Easy!
With our new online ordering, you can order your freezer pack directly from your home, just click here.

Specify your Desired Pack
Pick out your desired freezer pack from our wide selection.
---

Specify Substitutions
If there's something that you'd like to change... Just Ask! We can swap it for your favorite products. If you're not sure, just give us a phone call.

Specify your Packaging
Tell us how you want it packaged and T-Bone's is happy to wrap your items just for you.
Please Note: all freezer packs will be ready on the next available pick up date you select online.. Packs and pricing may be subject to change without notice.
What Our Customers Say
---

---
I have been a fan for years. T-bones is one of the only companies I like getting an email from with their exclusive email deals. However, recently I had an over and above experience! I would like to thank (I believe it was) the manager for picking up on my purchasing patterns and offering me a more economic solution! This was a huge help and not only that...they asked how I would like my order packed. So I now have a freezer full of custom packed packages for easy thawing. Thanks to the staff and management!

T-Bones has the highest quality, best tasting meat. The customer service is outstanding. The employees are always polite and very helpful. They stand by their products, no matter what. The BEST meat!

Love t-bones..we go there all the time..always have fresh delicious meat everyone.If you have never been there your truly missing out on a special place.staff at the West kelowna rock..always very friendly and helpful. Tonight we having t- bones again...

Just a Shout Out here. Bryan Leslie in Penticton store completely knows how to keep his customers happy and returning to his store. I have been purchasing all my meat products from this store since the day it opened and now that family has moved here ( Penticton ) they are doing the same. My thanks to Bryan for his unwavering customer relations.

Your Coconut Crusted Tilapia is to die for. I paired it up with the Armstrong asparagus that is on special this week also at Quality Greens and for $20 fed my family of 4 plus have leftovers for lunch today. And the staff on the Westside are always so friendly!

The Staff are Friendly and always smiling. The product is awesome. We love the Maui Sirloin. We tried the peppercorn porkchops yesterday. They were great. We have made T-Bones part of our Weekly Sunday Shopping. Great habit to get into. You never know what they will have instore for your next meal. Everything we have tried has been better than good.

The Best meat shop in BC! I just wished I lived closer, so I could shop there every week. The staff is so kind along with the good prices. Thank you T Bones.

On Christmas Eve we enjoyed the absolute best prime rib I have ever eaten. Thanks so much for the prep, seasoning and advice. Well done T-Bones!!!!

This is the only place to get quality meat, and fantastic service everytime

We are very fortunate to have T-Bones in Kelowna at 1889 Spall Road! The superb quality and selection is equally matched by the stellar staff. Everyone at the Spall location is knowledgeable, friendly and has great senses of humor. They always go the extra mile with a smile. T-Bones Kelowna is the template for successful business, marketing and community involvement. LOVE the flat iron steaks! LOVE the New York strip steaks! Grill medium rare and drizzle with chocolate balsamic vinegar and top with crumbled gorgonzola cheese. The fillet mignons are gorgeous grilled with sea salt and cracked pepper, the ground beef is perfect for burgers with just sea salt and cracked pepper - extra aged cheddar is a great topper. Rock star dining at home in the Okanagan! Thank you everybody at T-Bones at 1889 Spall Road!