CAPE HERB & SPICE ITALIAN SEASONING 46g
July 13, 2022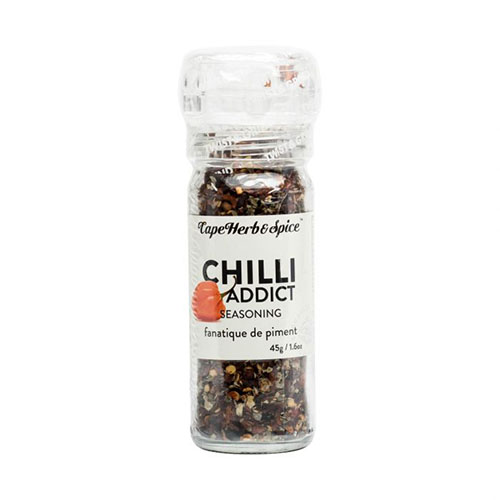 CAPE HERB & SPICE CHILI SEASONING 45g
July 13, 2022
CAPE HERB & SPICE CURRY SEASONING 46g
CAPE HERB & SPICE CURRY SEASONING 46g
$8.25 ea
Cape Herb & Spice Curry Seasoning will be your new favourite for flavouring soups, stews, sauces, marinades, meat, and vegetables.
Description
No artificial flavours or colours, no added MSG, no preservatives, non-GMO – and they are non-irradiated, Halaal and suitable for vegans.
Grinding whole herbs and spices at the stove or on the table, offers improved aroma, flavour and freshness to any dish.
You may also like…
Cut any size you like. A popular slow cooker roast or everyone's all time favourite – beef dip. Choose from plain or seasoned with our popular Highly Addictive Seasoning. Cut from CANADA AAA OR HIGHER.

$

11.50

per lb

Cut any size you like. A popular slow cooker roast or everyone's all time favourite – beef dip. Choose from plain or seasoned with our popular Highly Addictive Seasoning. Cut from CANADA AAA OR HIGHER.

Select options

Juicy & flavourful boneless & skinless chicken thighs are perfect for a soup, stew or chili. Sold frozen, approximately 1lb per package.

$

10.75

per lb

Juicy & flavourful boneless & skinless chicken thighs are perfect for a soup, stew or chili. Sold frozen, approximately 1lb per package.

Select options

A long, flat cut often used as alternative to skirt steak. Can be grilled, pan-fried, broiled or braised. Best cut against the grain to increase tenderness. Average weight is 2-3 lbs each. Sold Frozen. Available fresh if pre-ordered.

Click link to view cooking guidelines: https://mytbones.com/know-your-steaks/

$

24.80

per lb

A long, flat cut often used as alternative to skirt steak. Can be grilled, pan-fried, broiled or braised. Best cut against the grain to increase tenderness. Average weight is 2-3 lbs each. Sold Frozen. Available fresh if pre-ordered.

Click link to view cooking guidelines: https://mytbones.com/know-your-steaks/

Add to cart