PORK BELLY (pre-order item)
November 14, 2018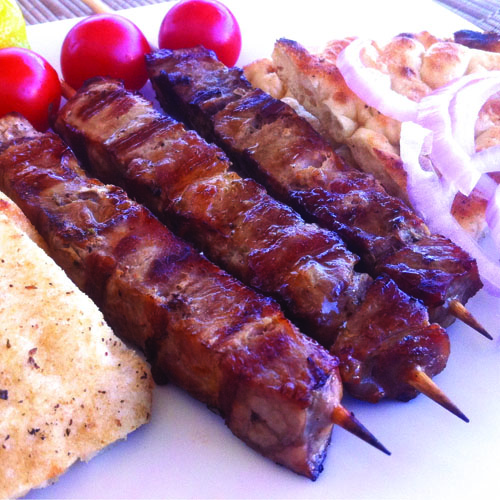 LAMB SOUVLAKI 90g ea
November 14, 2018
BONE-IN HAM $7.50/lb (Holiday pre-order item)
$7.50 per lb
Our bone-in hams are hardwood smoked for a sweet, juicy flavour. Available as a pre-order item only. Choose from as small as 5-7lbs up to a whole ham (approximately 14-16lbs).
Easter 2023 orders can be placed in-store or by phone. Online ordering of turkeys, turkey breast roasts or bone-in hams will not be available for Easter.
Kelowna Spall Rd 250-763-5966
West Kelowna 250-707-4667
Kelowna Lakeshore Rd 250-872-0366
Penticton 250-487-4669
Vernon 250-549-4668
Out of stock
Description
Pre-order today for the holidays and choose your pick up date below (Sun Dec 20th to Thu Dec 24th). PLEASE NOTE: The pick up date selected here is the date entered in our order book. The checkout pick up calendar date does not need to match.
Bone-in hams are still available, however, online ordering for this item is now closed. Please contact your local T-Bones to order.
Holiday orders can be placed in-store, by phone or online. Please click link below to go to our Christmas 2021 Order Form. Please note: for online holiday orders, you will not receive an email confirmation. A T-Bones team member will contact you to confirm your order once it has been submitted.
https://mytbones.com/holiday-ordering/
Kelowna Spall Rd 250-763-5966
West Kelowna 250-707-4667
Kelowna Lakeshore Rd 250-872-0366
Penticton 250-487-4669
Vernon 250-549-4668
Additional information
| | |
| --- | --- |
| Pickup Date | Wed Mar 31, Thu Apr 1, Fri Apr 2, Sat Apr 3, Sun Apr 4, Mon Apr 5 |
You may also like…
PRIVATE RESERVE AAA Alberta Beef aged a minimum of 28 days. Available as a standing rib roast (bones attached) or T-Bone's style (bones removed, tied back on). Seasoned or unseasoned. Looking for a boneless roast? Click on Ribeye Roast below for a boneless option.

$

20.25

per lb

PRIVATE RESERVE AAA Alberta Beef aged a minimum of 28 days. Available as a standing rib roast (bones attached) or T-Bone's style (bones removed, tied back on). Seasoned or unseasoned. Looking for a boneless roast? Click on Ribeye Roast below for a boneless option.

Select options